RENEGADE GOLF COACH BREAKS HIS SILENCE AND DISPELS THE SINGLE BIGGEST MYTH ABOUT HITTING LONGER DRIVES AND LOWERING YOUR HANDICAP
In this article I am finally going to break my silence and dispel the biggest myth in golf. What is that myth you ask?
Simple: That the secret behind hitting soaring drives and generating raw power is generated by the ' big muscles' of the torso and legs. This advice is the single biggest reason for high handicaps the world over. Here's why:
It complicates an already difficult game,

making consistency impossible.

It is actually the main cause of a weak

and powerless slice ball.

And finally this myth causes

unnecessary stress on the back and joints.
As a former PGA Professional, bestselling author and one of a few non-scientists to ever be invited to speak at the International Society of International BioMechanics in Sport Conference (ISBS), it is time I put it to bed – forever.
My name is Cameron Strachan and in my heyday I played at the Metropolitan Golf Club in Melbourne. This is one of the most exclusive private courses in Australia and hosted the 2001 Accenture Match Play Championship (won by Steve Stricker) and the 2018 Golf World Cup.
And when I played there I couldn't let my drives rip on the driving range… because… I would overshoot the back fence. Why? Because my ball carried over 300 yards. Yet I am only average height and I did this virtually every time by breaking almost every rule of golf. Let me explain how I do it (and in a moment I will tell you how you can get the full story on this amazing golf swing). But first ...
Imagine you want to punch somebody hard… but… the only proviso is that you must have your arm straight. Try it. You can't apply any power, right?
If you keep your arm straight you have no means to generate any speed. At best you can generate only 5 miles per hour of speed, and that is if you slide and lunge with your body. If, however, you allow your arm to bend even slightly, you generate massive speed and power.
Now to apply the same concept to your golf swing.
A swing that resembles the straight arm punch means you are never able to produce a swing that gives you great power and distance.
The secret to nailing every single drive off the tee is in the arms! The arms are the major power source in the golf swing. Your body acts as a support mechanism, with the arms (especially the upper right arm for right handers) providing the majority of power.
If, however, you've been taught that your body is the main power source (almost all the big name coaches are), you will always struggle to play consistently. This is why the quickest and easiest and most consistent way to get more power from your drives is to use your arms. Go ahead and try it next time you're out on the range. You'll be surprised by the easy distance you generate.
But it doesn't end there…
I've uncovered dozens of other areas of the golf swing that need overhauling (and in a moment I'll reveal how you can – for a limited time - get my latest and updated e-book). Worst still these myths form the backbone of modern golf coaching. For example…
Swing plane instruction is outdated and not beneficial to learning a better swing.


(I've created what may be the simplest training drills ever on how to integrate the perfect swing plane in your game. And it works like a dream)

X-Factor: turning your shoulders against the resistance of your hips is potentially dangerous.


(I discovered a much safer and effective way to generate raw power in every stroke. You can actually get more power with less strain.)

Did you know the majority of downswing instruction is actually the little known causes of a slice? It's true.


(But don't fret. I have found an easy solution any golfer – no matter how serious their slice – can use to hit the ball straighter virtually every time).

A big backswing and shoulder turn over complicates the golf swing


(I generate more power and consistency with a shorter backswing. This gives me greater distance and accuracy. In fact, testing showed that with a shorter backswing I could generate more power and I'll show you how to do it).
Yes, it really is possible to incorporate better and more reliable techniques into your game without stress and without frustration. But first, let me tell you about….
How The World's Smartest Sports Scientists Discovered The Hidden Force Behind The "Perfect" Golf Swing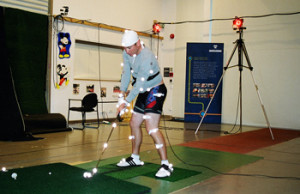 I helped commission and then was involved in a major scientific study of the golf swing. This was not pseudo science – it was the most comprehensive study of its kind ever undertaken on the golf swing.
This research was the first three-dimensional and full body analysis of the golf swing. The study was conducted at two universities and performed by an international team of bio-mechanic scientists. The research scientists came from New Zealand, Germany and Canada and were all experts in their fields. The testing procedure included:
16 muscle groups tested simultaneously using electromyography.


Special electrodes were placed on each muscle group and measured activity during the swing.

Ground reaction forces were measured. The testing subjects were required to hit shots from two force platforms.


This helped determine weight shift, foot action and pivot.

Eight 3D motion detection cameras were used in conjunction with a 48 marker reflective system.


These markers were placed at strategic points on the subject and club and allowed every inch of the swing to be analyzed.
Finally, all results were plugged into a precise mathematical model of the human system. This gave the scientists - perhaps for the first time ever - an insider look at what actually happens during the golf stroke and it enabled them ...

It didn't stop there. I then worked one-on-one with the scientists to translate the data into a usable golf swing model anybody can use on the golf course – no matter your handicap or experience (seriously, it's simple advice that does NOT require a degree in mathematics or biomechancis).
It took over nine months of painstaking research and field testing to carry it out. But we did it! And in the end we were left with a simple and accurate golf model that produces powerful drives… accurate strokes… and consistency on the course.
One independent scientist was so impressed he called it "the golf swing of the future". The best news for golfers is the scientific team and I created a golf swing that produces the maximum power with the least amount of effort (way less stress and strain on your body). And more important, the swing is transferable to any golfer who wants to learn it! In fact, it gives you a mechanical and mental advantage because it is based on the natural biomechanics of your body.
Based on all this work, I was one of the first non-scientists invited to speak at International Society of International BioMechanics in Sport Conference (ISBS). This is one of the leading symposiums in the world and researchers from such leading institutions as the University of Florida, California State University, University of Stuttgart, Miami University-Ohio, University of Windsor, Arizona State University, University of Sydney, University of San Francisco and many prestigious organizations have been part of it.
A Simpler Golf Swing That Gives Any Golfer, Including You, A Mental and Physical Advantage
The bottom line is that BioSwing helps you integrate a better golf swing into your game, starting immediately. You can forget about complicated and outdated theory because most of that kind of thing is rubbish. With BioSwing, you'll get a true advantage because you'll be working with the natural biomechanics of your body.
You've no doubt been told to "swing with confidence" or "trust your swing". With BioSwing, you'll have the roadmap on HOW to do this.
Ultimately, this means less confusion and way more power. And from here, you'll get accuracy and a new-found freedom that you've probably never had before. And this leads to way more consistency (with all parts of your game) and this in turn leads to an inner confidence that allows you to truly explore how good you can become.
It's a true win-win situation that is sadly lacking in many golfers around the world (because they can't get past all the BS technical instructions)
BioSwing is an ideal swing model for all golfers, but it has been written particularly for struggling golfers, inconsistent golfers, senior golfers, lady golfers and any golfer who wants to bring their best swing to the golf course more of the time.
It is absolutely for any golfer who has previously struggled with lots of technical instructions and is looking for a way to get out of the golfing doldrums.
This is an easy to read document that uncovers the real secrets of the golf swing and lays to bed many of those horrible golfing myths that have most likely been holding you back.
I have known Cameron for many years and I was first attracted to him because of BioSwing. I can vouch for his coaching methods and the science behind what he has created here. He has absolutely simplified the golf swing for all golfers.

Roger Podmore

Golf Coach and Biomechanist
And just to show you I know how to coach my breakthroughs, I taught my simple putting system to Aaron Baddeley - regarded by many as the best putter in the world. He won the first of two Australian Opens as an 18-year old amateur and has since gone on to win USPGA tour events and play in the Presidents Cup. In 2006 he was ranked as the #1 putter on the US PGA and continues to impress people all over with his "magical" putting ability.
But he wasn't always a great putter. In fact, it used to be the worst part of his game. When I showed him a different putting style and routine he was a little skeptical. But he appreciated the simplicity of what I showed him…and turned his game around. His putting is now the best part of his game and is the envy of many golf professionals.
"Cameron turned my putting from the weakest to my strongest asset…I continue to use his style and am regarded as one of the best putters on tour"

-Aaron Baddeley
Full Money Back Guarantee
And this is something I take very seriously. If BioSwing doesn't help you simplify your golf swing while also simultaneously help you tap into your inner power reserves, so you can hit the ball longer and straighter, then I absolutely will refund every cent of your purchase. I'm wearing the risk because I'm so confident of the information contained within.
Over the last 15 years I have uncovered how best to help golfers make this simple and scientific golf swing work. In fact, I have updated some of the earlier information to make it even easier to learn and make your own ground-breaking discoveries in the shortest time possible.
Plus! You will get access to bonus training videos and a new product I launched in 2018, called Billion Dollar Drive Secrets. So not only are you getting the written word, you get immediate access to a range of golf swing learning materials that can have you thumping long drives and hitting immaculate iron shots.
BioSwing, just by itself, has sold for up to $97 when it was first released. I am giving you access to the revised copy of the e-book, the bonus training videos and Billion Dollar Drive Secrets as well.
So don't stuff about. The bonus material won't be around forever and can be taken offline at any time. Here's your chance to own a copy of the swing that has been described as the "Golf Swing of the Future" and get access to all the bonus material that could easily sell for $200+

You get instant access and can be reading, learning and apply the game-changing swing model in a few minutes (even if it's 2am). Check out a special offer by clicking the buy now button below.

Click the button below to continue.
Good golfing,
Cameron Strachan
Q.

Can I get a hardcopy of the book?

A.No. This information is only available as an electronic download.

Q.

Why is it digital?

A.It is way cheaper and easier to sell as an electronic file. I have quizzed my list of golfers and they have all said they prefer the online file over a printed book.

Q.

What currency is payment in?

A.In USD

Q.

Is your shopping cart secure?

A.Yes. It is fully secure. I have invested heavily in getting this stuff right and I believe I have the very best shopping cart on the planet. It's secure, safe and easy to use. Please click the button below to see it in action.

Q.

Is there a guarantee?

A.Yes. I feel so strongly about the information that there's a guarantee for any golfer who consumes the content, puts the ideas into practice but doesn't simplify their swing and/or find more power and/or consistency.

Guarantee is from 28 days from purchase date.

Q.

Can I get a copy of the testing information?

A.No. This is held by the universities. What I am offering here is the "golf speak" and completely translated version of that research.

Q.

What's the bonus material?

A.I have pulled out all the stops and am offering a crazy list of bonus information (for Elite package only) including,

BioSwing Training Video (normally $29)
BioSwing Secrets Package (normally $97)
Billion Dollar Drive Secrets (normally $47)

These are offered as a special bonus so you can see the swing in action and learn some of the advanced training that I've put together over the years.

Q.

Is the bonus training another e-book?

A.No. This information is stored on a private website. You get immediate access once your payment has gone through. The private website contains video, PDF's and written articles.
"Hi Cameron, I would just like to inform you of my dramatic change in my game - basically overnight - and need to share my story with you.

As an 11 handicap I was wondering why my friend was booming his drives past me by 30 yards. So after careful thought I realised that it's speed that counts and not power - so the faster I can swing the club the further the ball will go, right?

So with my theory I looked up how fast the pro golfers are swinging. Wow up to 125mph.

I thought that is bloody quick. Now I've always had the impression that the power comes from the body and that's how everyone is taught but it dawned on me that surely it's impossible to swing your body that fast to enable the arms to whip into the ball...

I thought to myself that I could probably swing the club faster by just swinging my arms...but everybody, absolutely everybody, says that's wrong.

So I decided to prove my theory once and for all. Went to the range for the test. I just concentrated on my arm swing as fast as I could and completely ignored any body thoughts...

To my utter surprise, once I got used to the different sensation, I noticed that I seemed to hit the ball further with more accuracy. You know whats next lol...

...off to the course with yet another idea, yet again. I bet this wont work. I've been here before etc ...

To my utter surprise I went round my course 10 over, am usually about 12 or 13 over and very rarely hit my handicap...

... fluke?

My next round with my new arm swing only I was 4 over for 18. And unbelievably, for 9 holes I was one under the card, something I'd never done before.

To be honest, I panicked a bit because this was new ground to me but happy to finish only 4 over.

My next round I was 8 over. Still very happy but once again I got nervous and threw in 3 double bogeys midway.

My last round was 8 over again, this time I played the wrong ball up the last - so should have been 6 over!

Anyway, your golf swing ideas work! Everyone else is teaching golf the wrong way around - big muscle theory is too hard and doesn't work that well.

After 12 years of golfing I've feel I've finally got it. You are dead right and thanks for all your info. My handicap is now down to 8!"

Phil,

UK
Cameron you are spot on. I am returning to golf after heart surgery and a frozen shoulder. I have been stretching and following your Bioswing advice. Yesterday I took my first full swings and the ball took off. My strength is down and my timing is not quite there but it was a fabulous feeling to strike the ball in the middle of the club and watch the ball fly just as I intended.

Your methodology far exceeds any that I have witnessed in 41 years of teaching/coaching golf. Congratulations and continue your excellent work

Kevin O'Neill,

Master Golf Teacher and Inventor of the Dot Putter
I can only confirm that you're correct.
A bad shoulder due to trying to kill whip that little birdie ball last year had me go from 11 hcp to 15.5.

I played less this year, no competitions and applied the BioSwing principle and training tools.

Wow! Pleasure is back, pain is gone and playing around 10.
I am 64 and this is kids stuff.

It is a fine tuned system and you are a Guru.
Congratulations.(I think my Pro is not fond of you as we now say hello and good bye!)

Stefan,

Sweden
I have been reading/following your technique, many of the properties and values I share. Keeping it simple is certainly a philosophy that would be best undertaken by all golfers, certainly those less proficient, but amazingly it often seems that the reverse is true. And as we age a less rotational action is certainly logical and practical

Phil Scott,

PGA Professional
Today I scored 42 on the back 9 at Yas Links Abu Dhabi a notoriously difficult course here in the UAE, my best ever score and the third time I have tried your techniques on the course. The game was effortless, enjoyable and free of tension thanks to your guidance. No lost balls, no bunkers, no hazard, no water and some great ball striking.

Simon Hutchenson,

UAE and QLD
Hi Cam,
Just wanted to flick you a quick note, yesterday I had a round and I've never hit the ball so pure (on the range I have) not in a comp . Driver with power and a 4ft draw , irons & wedges into greens were heat seeking , 43pts (76otb) gone from 11 to a 9 and this is only after 1 week with your literature well 2 if you count the breeze over, on first reading it . Putting the drills into practice and then having only one swing cue on the course has got me hungry again to improve further. Looking forward to the future with gusto!

Many thanks and kind regards

Stu,

Western Australia
Cam, you are without doubt the best golf teacher/instructor/inspirer in the world!

Terry,

QLD
Hi Cameron

A quick note to thank you on your tips. This is the first time I have replied but must say your simplicity has helped. This is my second 'lesson' and have taken onboard your advice.

Played Monday and reduced my gross by 4 shots and today reduced my gross score by 5 shots having 75 off the stick, very happy. Keep informing me, I will probably hit the brickwall sometime but have reduces my H/C by 2 strokes, again thanks

Bill,

Australia
I'm a 100% convert to BioSwing, it definitely is the swing of the future.

Patrick
Cam I owe you a debt of gratitude so vast that I would love to meet you in person one day and shake your hand. Please continue on your path, you are going to help so many people with your teaching methods, and the respect I have for you to follow your convictions and " buck the conventional way" is enormous.
Thanks again Cam you're a bloody legend!!

Richard Cahill,

Victoria, Australia